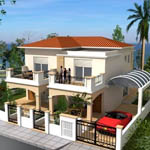 The real estate story in India is growing bigger day by day. Industry experts believe that Indian real estate has huge demand potential in almost every sector especially commercial, residential and retail.
Vasantha corporelation offers complete services in buying and selling for unfurnished and furnished individually owned real estate properties. Our services are provided at competitive rates by professionally trained Property Managers. We are dedicated to the full time management of your investment properties. With many years of experience in the Property Management business, you can be assured that our Property Managers will manage your investment with the highest standards in the industry.
EXPECT THE BEST...in 21st CENTURY, our customers deserve the best. We pride ourselves on our agent's reliability, professionalism, and results.
Whether you're buying residential land, investment property, a farm or your dream home, our Top Producing agents are available for all your Real Estate queries. We offer BUYER REPRESENTATION for all types of transactions and carry you through the home buying process from the initial offer to financing and all the way through the closing.
When information counts and you need the facts regarding buying your home, Top Producing agents are the answer. You deserve the BEST - a company with success all the time.